The First Zero Emissions Autonomous Irizar Bus Is on the Road in Malaga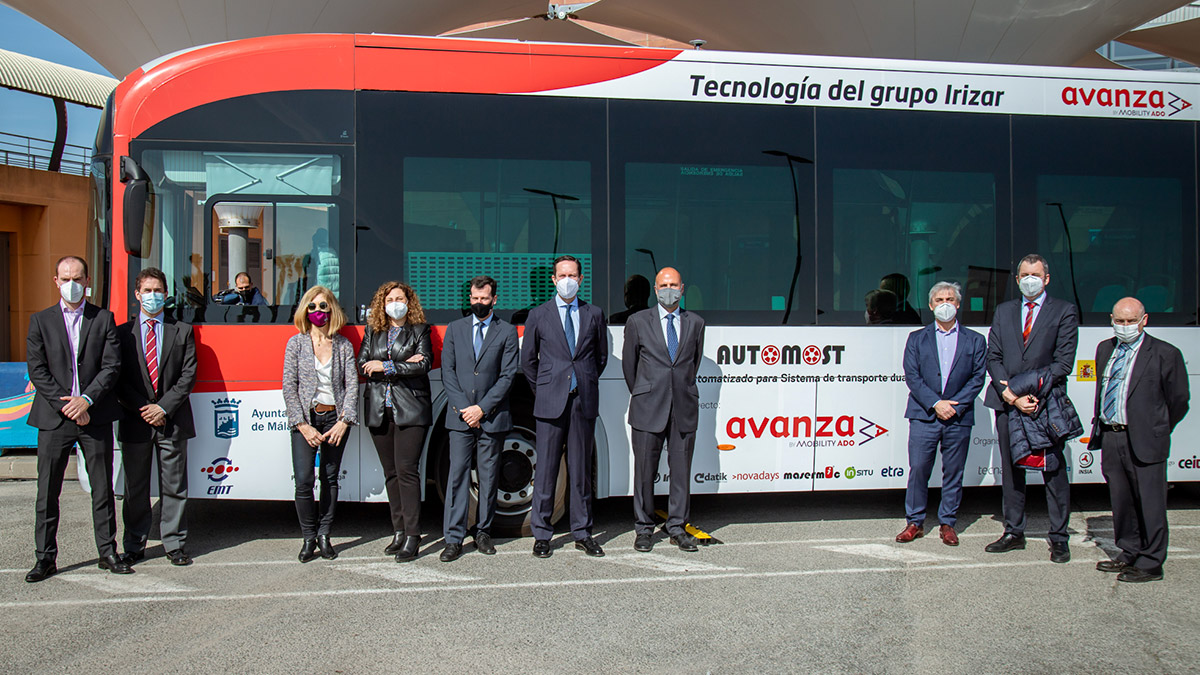 Aduna, 18 February 2021
The City of Malaga and Avanza put the Irizar brand first high capacity zero emissions autonomous bus into service.
It's a 100% electric zero emissions 12 metre long Irizar ie bus and it's a pioneering project because it involves putting a standard size vehicle on the road in a real city traffic situation. 
This first autonomous bus is the outcome of the AutoMOST Project financed by CDTI through the CIEN programme. Avanza participated as an operator alongside 11 partners, which included the Irizar Group through Irizar e-mobility and Datik. The Polytechnic University of Madrid, Insia, CEIT-IK4 and the University of Vigo also participated. It's a pilot R&D project that started four years ago and finished this year, in 2021, meeting the projected deadline.
The pioneering project has two characteristics that make it a breakthrough, which are its capacity to transport passengers and its interaction with vehicles, pedestrians and infrastructure under real conditions in the city of Malaga.
The bus will use a high-precision positioning and guidance system and will be connected to a control centre from which specific instructions can be sent to each unit and the buses can be monitored and their itineraries accessed in real time.
AutoMOST has recently been awarded the Industrial Design Award in ITS by the Spanish chapter of the Intelligent Transport Systems Society (ITSS).  AutoMOST will be the implementation of (Dual Mode) shared control systems for future automated vehicles that enables operating services more efficiently and with more flexibility in a context of intelligent and connected infrastructure.
Malaga has thus become the first European city to have an autonomous bus on its streets.
This is an enormous step towards the transport of the future - sustainable, connected, safe and autonomous transport - where Irizar will be a key player in the transformation.