Increased range, greater passenger capacity

In addition to an aesthetically pleasing design, this new generation, available in 10, 12, 15 and 18 metre versions, incorporates innovations as well as new batteries. The space has been optimized and there is, therefore, more passenger capacity and greater modularity.
A new generation of more efficient batteries is combined with a regenerative braking system, which reduce consumption and offer greater vehicle range. In urban environments, driven by 350 kWh and in standard climate conditions, it offers an approximate autonomy of 250 km, which means about 17 hours of operation.
The new Irizar ie bus has greater flexibility in terms of the position of charging points as well as higher charging capacities (up to 600 kW).
The charging time has decreased and we can perform the slow charging of the vehicle in 3 hours. We also offer the option of fast pantograph charging. The new generation of Irizar ie bus can be approved as a Class 2 vehicle.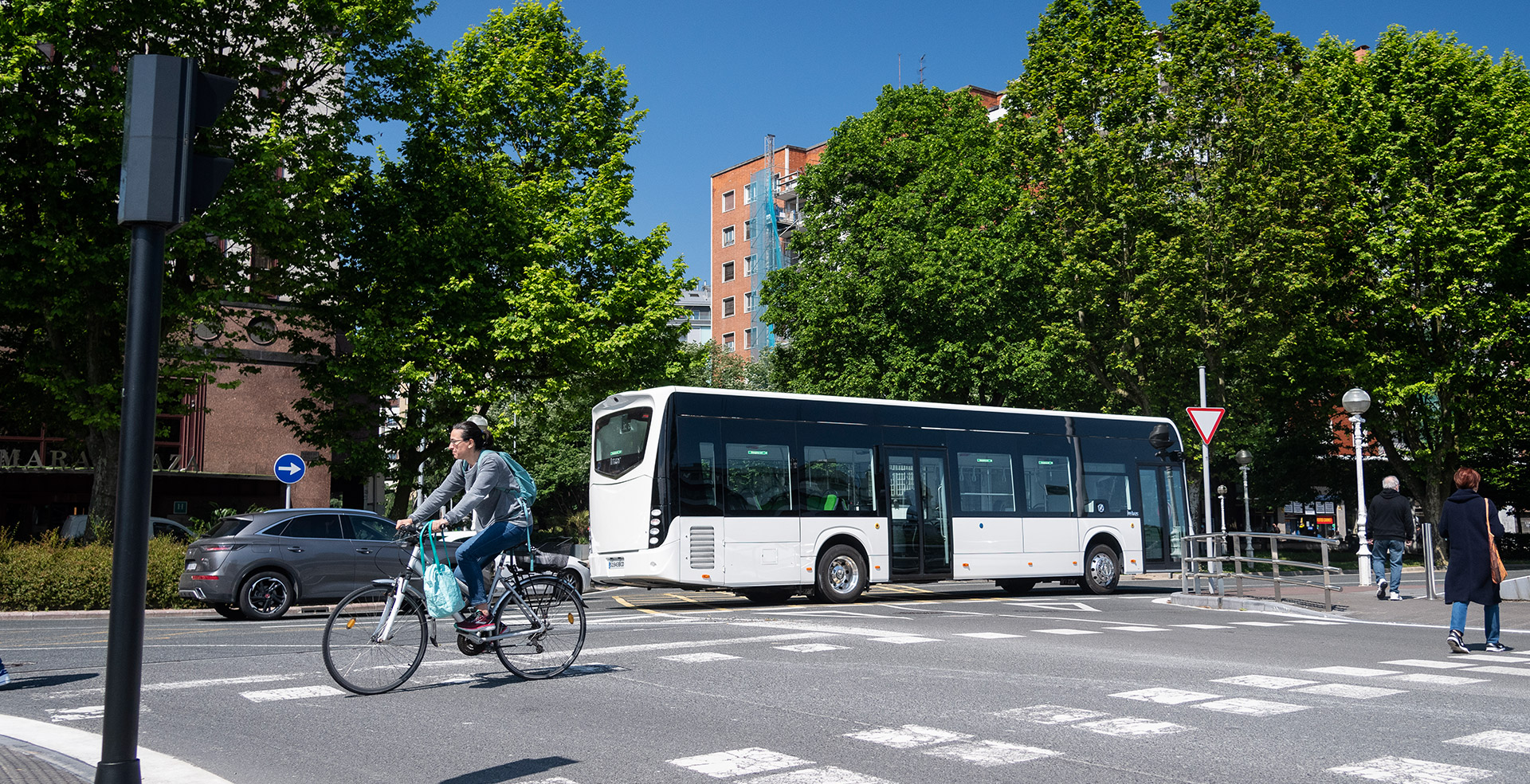 A safer vehicle
We were pioneers in complying with the ECE-R66/02 rollover safety regulation in electric vehicles.
We now incorporate AVAS (Acoustic Vehicle Alerting System), an acoustic warning system that complies with requirement R138, as well as a new dashboard with quality materials that comply with fire safety regulation 118R annex 6, 7 and 8.
The new generation of Irizar ie bus enables the vehicle to be maintained more easily and more ergonomically.
A design for the future
We have worked meticulously on both the exterior and interior design of the bus, achieving a more attractive, efficient, reliable and safe vehicle. The front of the vehicle, with a more striking and elegant look, adopts the aesthetic features of Irizar's products. When it comes to the interior design, although the standard version has a more conventional specification, some of the Irizar ie tram options may be incorporated, including large windows, side lighting or screens above the windows, amongst others.
The Irizar ie bus has been operating since 2014 in several European cities. The experience and data obtained in recent years demonstrate the reliability and safety of this vehicle.
You might also be interested in