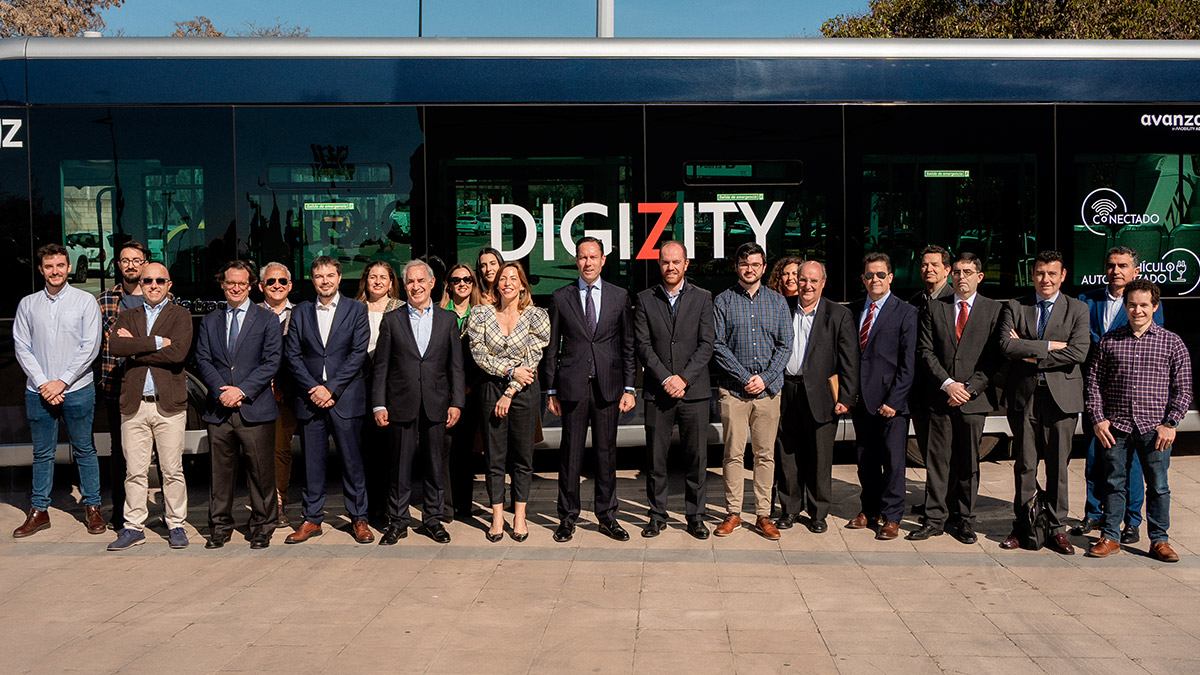 DIGIZITY was born as the most ambitious industrial research project ever for designing and implementing innovative solutions with the goal of automating, decarbonising and digitalising urban transport with zero-emissions buses.
The bus that was developed for this test is the 12 metre long Irizar ie tram, which is a 100% electric zero-emissions vehicle that can transport up to 74 passengers.
Avanza and the City of Zaragoza presented the largest Strategic Project for Economic Recovery and Transformation (PERTE) project to the media today. It's a project that started two years ago with the goal of automating, decarbonising and digitalising urban transport with zero-emissions buses.
Five other companies, including the Irizar Group via Irizar, Jema and Hispacold, participated in the project lead by Avanza. Telnet and Nextium and three technology centres (Itainnova from Aragón, CTAG from Galicia and Tecnalia from the Basque Country) and Novadays, a consulting firm specialising in public administration, also participated. It marked the integration of the value chain of one of the segments of the automotive sector, bus transport. It brought together manufacturers of buses, engines, components and on-board systems, telecommunications equipment and a global mobility operator.
DIGIZITY, who keeps making progress every day thanks to all its members, is part of the integral model of the City of Zaragoza that aims to create a zero-emissions city and promote sustainable mobility through a transition from private vehicles to public transport.
They took another step this Thursday and their EXCEPTIONAL AREA, which is an enclosed and 100% safe research infrastructure that is part of the Strategic Project for Economic Recovery and Transformation (PERTE), was presented with the Irizar ie tram, a connected and electric vehicle. The test area will be done on line 40 of Zaragoza public transport. Its first stage will start to be operational starting today, which will make it possible to test and integrate all the systems developed on the project. Furthermore, Vodafone is collaborating on all the tests as a 5G communications provider and subject area expert.
The bus used for the tests is an Irizar ie tram, which is a silent and environmentally friendly vehicle. Its innovative design similar to a tram, high degree of personalisation, high capacity and ease of access and comfort are among its great virtues.
MOBILITY 4.0 IS HERE
With this project, mobility 4.0 is arriving at the capital of Aragon, putting it at the vanguard of the future and of sustainability and innovation through artificial intelligence. Zaragoza will be the first city domestically or internationally to have the benefits of a pioneering project by testing more than 50 products, systems and subsystems aimed at making public transport cleaner, more efficient, safer and more comfortable. Furthermore, the city will improve the safety of Avenida San José, which is an especially sensitive traffic area.
Today autonomous driving is making an important contribution to environmental sustainability because energy consumption can be managed more efficiently. In addition, it goes hand in hand with electrification and implementing zero-emission vehicle technologies.
The zero-emissions 12 metre Irizar ie tram automated vehicle has driving assistance that contributes to guaranteeing safety and minimises the possibility of accidents. The driving assistance doesn't eliminate the driver, it assists them to improve safety. It reduces accidents or incidents by reducing human error (fatigue or speeding, etc.).
The goals of the project are clear: automated and intelligent vehicle usage, 5G and WiFi 6 connectivity, technological and smart city infrastructures, artificial intelligence and latest generation solutions for users. A connected, intelligent and cybersafe vehicle was developed with this project. It's connected in real time/5G with a network that has been deployed for that purpose.
The DIGIZITY project has been financed by the European Union - Next Generation EU through the 2021 "Sustainable Automotive Technology Programme" call for entries under the Recovery - Transformation and Resilience Plan backed by the Centre for Technological and Industrial Development (CDTI). The total budget is more than 9 million Euros, it has 5.4 million in public funding and it will last until 31 December 2023.