The Irizar Group continues expanding in Portugal and will supply 43 buses and coaches to the city of Guimarães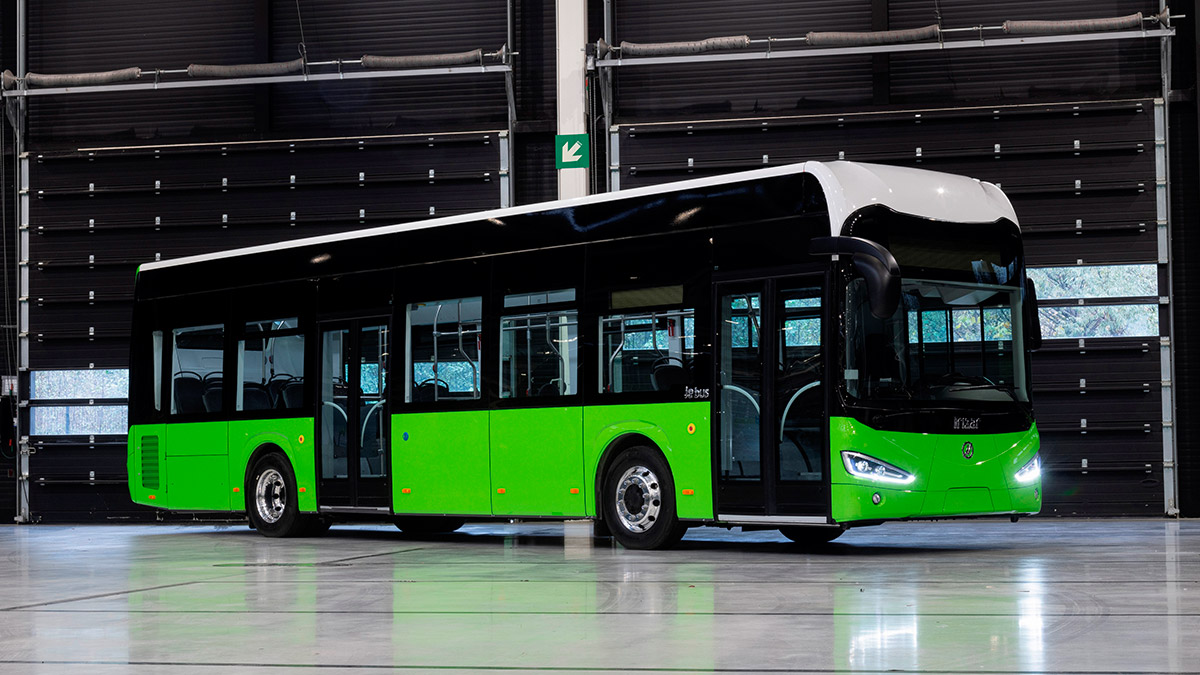 Aduna, 9th December 2021
The Irizar Group continues expanding in Portugal and will supply 43 buses and coaches to Guimabus, the company that will operate the transport concession in the municipality of Guimarães for a period of 10 years.
Operator Guimabus, from the Vale do Ave Group is acquiring 17 zero emissions Irizar ie bus electric buses and 26 Low Entry diesel Irizar i3 coaches, in addition to nine chargers for slow charging in the garage.
These vehicles will drastically reduce noise and CO2 emissions levels.
The Irizar Group has won the acquisition contract for 43 buses and nine chargers for the urban public passenger transport services for Guimarães.
In total, 17 of the buses are electric Irizar ie bus zero emissions 12 metre long buses, 16 are urban Class I diesel buses and 10 are class II intercity diesel buses, both Irizar i3 Low Entry model that are 12 and 12.75 metres long respectively.
Alongside the electric vehicles nine 150 kWh chargers from Jema Energy (an Irizar Group company) will be provided. The chargers will be installed in the garages for charging the buses at night.
One common characteristic of all the buses is that they are equipped with a low floor and PRM platform for passenger accessibility and they have a space inside reserved for PRM, in addition to fire extinguishing systems.
In addition to the buses providing the environmental benefits of zero CO2 emissions and low noise levels, especially the electric ones, they stand apart because of their modern attractive design and because comfort, accessibility and safety are maximised. These vehicles will completely renew the current fleet of the Guimarães urban and municipal services and drastically reduce emissions levels.
All the vehicles will be delivered this year.
The Irizar Group is thus gaining ground and consolidating their presence in Portugal in the occasional, intercity and urban markets. Bigger every day, small and medium companies are choosing Irizar with complete confidence.
Guimarães is a Portuguese city and municipality in the Braga district and its historic centre surrounded by walls has been declared a world heritage site by UNESCO. It is a city with a rich medieval history and it has a large number of building full of character from that time, which makes it a perfect tourist destination.
GUIMABUS is the company that runs the mass transit services for travellers in the municipality of Guimarães. It is led by the Salgado family and it belongs to Grupo Vale do Ave. Their strong commitment to modernising and electrifying their fleet means progress for the city that will connect passengers and visitors in a cleaner, more efficient and safer way.
Technical specifications of the buses:
17 zero emissions electric buses from Irizar e-mobility
12 metres long with two access doors.
1 PRM space.
Maximum seating capacity up to 40 seated passengers.
434 kW of on-board energy, Irizar batteries.
Slow charging.
9 chargers from Irizar Group (Jema Energy)
Eight 2x75 kW CCS Combo II chargers.
One 1X150 kW CCS Combo II charger.
16 Irizar i3le urban buses
12 metres long, Class I.
MAN C2LE Euro6D chassis with 250 CV.
Capacity for 41 people seated.
10 intercity Irizar i3le buses
75 metres long, class II.
MAN C2 Euro6D chassis with 290 CV.
Capacity for 45 people seated.
Strategically, the Irizar Group is committed to battery and fuel cell technologies to achieve zero emissions. The Group's short-term technological road map addresses the development and manufacture of coaches, especially vehicles that travel long distances between refuelling stations and are powered by hydrogen fuel cells. This technology will gradually be extended to the rest of the Irizar Group's range of vehicles (buses and vehicles for urban applications).
Technology is key and the Group's positioning strategy involves promoting innovation and the creation of its own high technology in strategic sectors with the aim of providing pioneering solutions that successfully anticipate the challenges of the future. The ultimate goal is to achieve a positive impact on the creation of wealth and employment,  as well as on the development of society and the economy.