Irizar at the Paris European Mobility Expo Trade Fair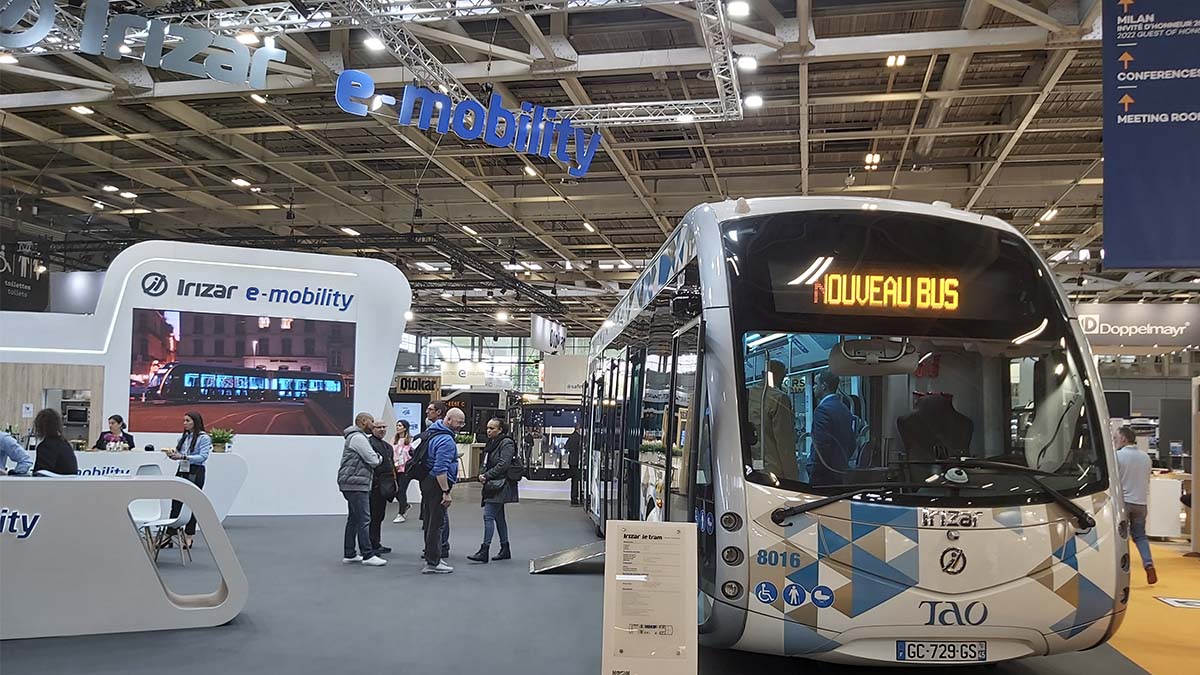 Paris, 7 June 2022
Irizar e-mobility will be presenting its zero emissions mobility solutions and its innovation and technology advances at the European Mobility Expo to be held in Paris on 7,8 and 9 June.
It will display one of its flagship vehicles, the 12 m Irizar ie tram, on Stand H9 in Hall 4.  This cutting edge 100% electric vehicle offers passengers a silent, well-lit, safe and pleasant journey experience. 
Its key features include the design, with the aesthetic attributes of a tram, the hubcaps, the rear-view mirrors that have been replaced by cameras that project their images on two screens inside the vehicle on either side of the driver, or the chrome perimeter ring, which runs round the body of the vehicle. The perimeter ring frames the large glass surface of the sides.
This particular vehicle has 22 seats, 1 driver's seat, 2 areas for wheelchairs/pushchairs and it can hold up to 80 passengers. It is equipped with Irizar batteries offering 355 kWh of on board energy, charged by slow charging in depots.
The vehicle on display is owned by Orleans Métropole. The company signed a contract with Irizar e-mobility in April 2020 for the supply of 29 zero-emission Irizar ie tram buses. This agreement was part of Orleans Métropole's strategy for the energy conversion of its bus fleet to a fully electric public transport system.
These buses have been operating on the streets of Orleans since 2022.
In the technology space, visitors will be able to see first-hand a permanent magnet electric motor as well as a battery pack, both using the Irizar Group's proprietary technology.
Consolidation in the French market
Irizar e-mobility is maintaining its major strategic brand commitment and focus on bespoke projects in France. In 2016, it commissioned the first 100% electric line in the city of Marseilles, involving six Irizar electric buses, and this city has now come back to Irizar a second time for the renewal of its bus fleet. Three years later the ambitious Amiens project arrived, which was the largest electric BRT fleet with ultra-fast interoperable charging in Europe. That same year Irizar put two more BRT projects into operation in Aix-en-Provence and Bayonne.
In addition to the orders from Strasbourg and Orleans, another important milestone was reached in the framework agreement signed in July 2021 with the RATP (La Régie Autonome des Transports Parisiens) for the supply of zero-emission electric buses. It is one of the largest electric bus contracts in Europe.
Latest news
A few weeks ago, Irizar e-mobility signed a new order for 90 electric buses with the Madrid EMT. This latest order means that Madrid's EMT will now have a total of 175 zero-emission Irizar buses in its fleet.
This is the largest order for electric buses awarded to Irizar e-mobility to date and the largest electric bus tender call by the Madrid EMT to date.
These vehicles will be equipped with state-of-the-art Irizar batteries of more than 430 kWh, ensuring optimal range for the buses. They will be charged through an inverted pantograph or using a Combo 2 charging socket. The vehicles will be powered by a 206 kW central motor.