Zaragoza City Council and Avanza are committing to Irizar e-mobility electric buses to renew their fleet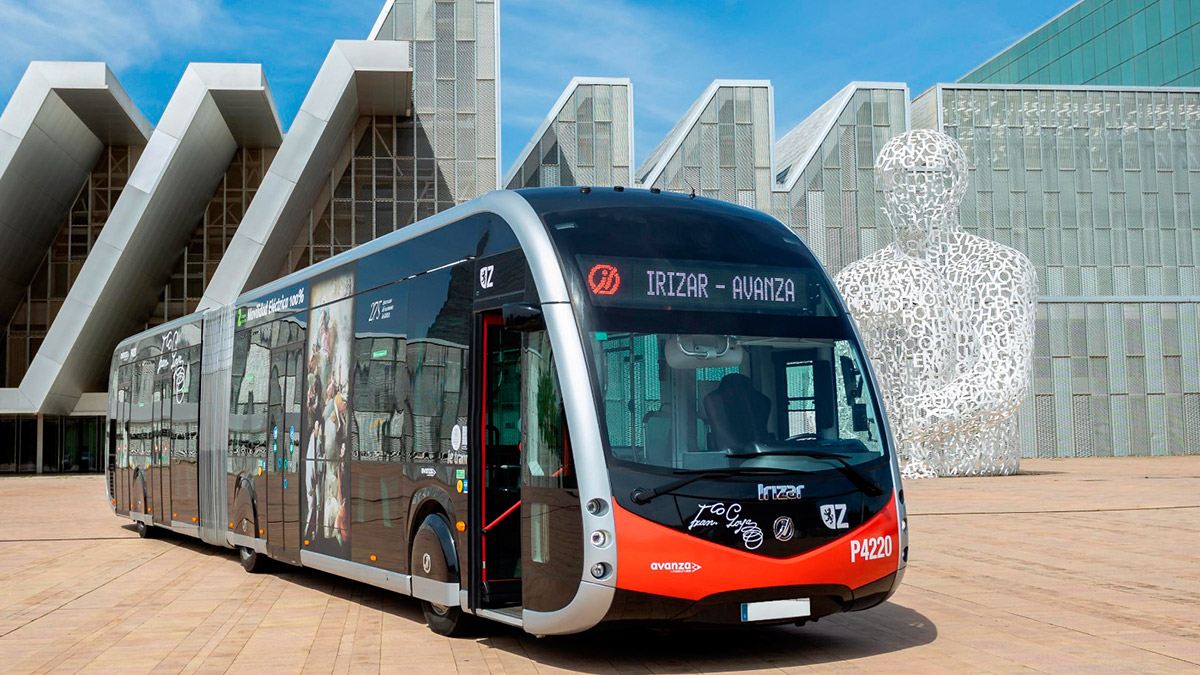 Aduna, 18 June 2021
A total of 68 units, 51 of 12 metres and the remaining 17 articulated vehicles, will be purchased. These buses will be rolled out into service gradually, from the final semester of next year and will be operated by Avanza.
This is Irizar e-mobility's largest electrical bus project to date. It is, without doubt, a pioneering benchmark project that will help to improve the quality of life of Zaragoza's citizens and will eliminate many tonnes of CO2 emissions. 
Zaragoza City council today presented the new electric bus model which will form the basis of its fleet renewal from the end of next year.  The model is the Irizar e-mobility ie tram, a 100% electric bus with a futuristic design which, in addition to showcasing the change to zero emissions technology will bring a major change in the aesthetics of city buses in Zaragoza.  This vehicle will undergo testing throughout the city over the next 3 weeks and will operate on different lines with capacity to operate with double buses, such as on line 23.
The presentation was attended by the mayor of Zaragoza, Jorge Azcón; the Council Member for Public Services and Mobility, Natalia Chueca; and the general manager of Avanza, Valentín Alonso. It was also attended by the director of Avanza Zaragoza, Guillermo Ríos, and Txema Otero, Irizar e-mobility Sales Director for Spain and Portugal.
The Government of Zaragoza recently took the decision that all new urban buses added to the bus service in Zaragoza, were to be electric.  Zaragoza is therefore redoubling its commitment to becoming a climate-neutral city.  The city currently has 4 of these zero emissions buses plus 111 hybrid units. The rest, up to 352, are diesel.
Replacing each diesel bus with an electric bus will save 1,700 tonnes of CO2 emissions throughout its service life. It is calculated that, when the entire fleet is replaced by electric vehicles, Zaragoza will save more than 621,000 tonnes of CO2 emissions.
The transition towards an electric fleet is in line with the Recovery, Transformation and Resilience Plan, under the Next Generation EU package, which will be eligible for European funding and will put Zaragoza in a good position for access to grants in future bidding rounds.  It is in this specific sense that the choice of a European company to supply these buses is decisive in order to qualify for these European funds, with enhanced guarantees.  This was a major factor in Zaragoza City Council's decision to go for Irizar's ie tram.
Irizar e-mobility is proud to be able to contribute to the City of Zaragoza's decarbonisation objectives and to work in partnership with Avanza, which is taking a further step in its firm commitment to sustainable mobility and to leading the transition towards zero emissions to improve urban environments.
Latest generation design and technology
The Irizar ie tram is a 100% electric, zero-emission bus with the appearance of a tram that combines the large capacity, ease of access and internal configuration of a tram with the flexibility of a city bus. This model is developed in versions from 12m up to the 18m articulated version and with a maximum capacity of 145 people. Its Lithium-Ion batteries are developed and manufactured by Irizar.
The Irizar ie tram offers a clean, minimalist design and all its features correspond to specific functional aspects allowing it to create an identity and an image that are easily recognisable to its users. Accessibility, safety, passenger flow and passenger comfort in a bright, comfortable, spacious, pleasant and safe interior.